Brigade's Mission and Vision
Mission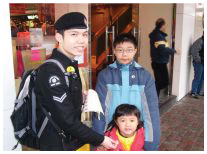 Hong Kong St. John Ambulance is dedicated to promoting and encouraging all works of humanity and charity for the relief of distress, suffering, sickness and danger without any distinction as to race, class or creed.
The principle and spirit of St. John's mission in Hong Kong is encompassed in its motto:
"For the Service of Mankind"
Vision
To become the Centre of Excellence in the provision and education of First Aid and Home Nursing for the people of Hong Kong.
Division's Mission and Vision
Mission

St. John Ambulance Cadet Division is group that aimed to nurture future leaders by emphasizing in mutual respect, self-initiative.
While first aid skills and footdrill are the core values of the St. John Ambulance, we consider time management, interpersonal and presentation skills, ability to make ad-hoc decisions are at paramount importance.
Vision
To become a platform for SPCC members to meet students from other schools and to have insight to our society by participation in our many social serving activities offered.